[Animation Elimination Music] HTML+CSS White Cloud Floating Effect 072
Preface
Hello! Little buddies!
Thank you very much for reading Haihong's article. If there is an error in the article, you are welcome to point it out~
 
self-introduction ଘ(੭ˊᵕˋ)੭
nickname: Haihong
Tags: programmers|C++ players|student
profile: I got acquainted with programming due to C language, then turn to Entered the computer major, fortunately to have won national awards, provincial awards, etc., has been guaranteed research. I am currently learning C++/Linux (really too difficult~)
Learning experience: a solid foundation + more notes + more code + more thinking + good English!
 
[Animation Xiaoxiaole] Normally studying and life are boring, and I unintentionally have a strong interest in the transition/loading animation of some webpages and applications. Want to know how to achieve it? In my free time, I will learn how to use CSS to achieve some simple animation effects. The article is only for my own study notes, record learning life, strive to understand the principles of animation, and "eliminate" animation a lot!
Show results
Demo code
HTML
<!DOCTYPE html>
<html lang="en">

    <head>
        <meta charset="UTF-8">
        <meta http-equiv="X-UA-Compatible" content="IE=edge">
        <meta name="viewport" content="width=device-width, initial-scale=1.0">
        <link rel="stylesheet" href="style.css">
        <title>Document</title>
    </head>

    <body>
        <section><span></span></section>
    </body>

</html>

CSS
html, body {
  margin: 0;
  height: 100%;
}

body {
  display: flex;
  justify-content: center;
  align-items: center;
  background: #93b5cf;
}

section {
  width: 650px;
  height: 300px;
  padding: 10px;
  position: relative;
  display: flex;
  align-items: center;
  justify-content: center;
  border: 2px solid white;
}

span {
  position: relative;
  animation: cloud 5s ease-in-out infinite;
  background: white;
  border-radius: 50%;
  box-shadow: white 65px -15px 0 -4px, white 25px -25px, white 30px 10px, white 60px 15px 0 -10px, white 85px 5px 0 -5px;
  height: 50px;
  width: 50px;
  margin-left: -60px;
}

span:after {
  animation: cloud_shadow 5s ease-in-out infinite;
  background: black;
  border-radius: 50%;
  content: '';
  height: 15px;
  width: 120px;
  opacity: 0.2;
  position: absolute;
  left: 5px;
  bottom: -60px;
}

@keyframes cloud {
  50% {
    transform: translateY(-20px);
  }
}

@keyframes cloud_shadow {
  50% {
    transform: translateY(0px) scale(.7);
    opacity: .05;
  }
}

The principle is explained in detail
step 1
Use the span tag and set it to
Relative positioning
Width and height are both 50px
Background color: white
span {
  background: white;
  height: 50px;
  width: 50px;
  position: relative;
}

The effect diagram is as follows

Step 2
Use the box-shadow attribute to add 5 shadows to the span
 box-shadow:  red 65px -15px 0 -4px,   /*阴影1*/
              orange 25px -25px,       /*阴影2*/
              yellow 30px 10px,        /*阴影3*/
              green 60px 15px 0 -10px, /*阴影4*/
              blue 85px 5px 0 -5px;    /*阴影5*/

The effect diagram is as follows
Step 3
rounded span
span {
  border-radius: 50%;
}

The effect diagram is as follows

Step 4
Change the colors of the 5 shadows to white
  box-shadow: white 65px -15px 0 -4px,   /*阴影1*/
              white 25px -25px,          /*阴影2*/
              white 30px 10px,           /*阴影3*/
              white 60px 15px 0 -10px,   /*阴影4*/
              white 85px 5px 0 -5px;     /*阴影5*/

The effect diagram is as follows
Step 5
Move the span to the left by 60px
span {
  margin-left: -60px;
}

Get a little white cloud
Step 6
Add animation to span
The animation effect is described as: white clouds move up and down
Use the translateY attribute to move the span up and down on the y-axis (vertical direction)
Initial (0%): original position
Middle (50%): move up 20px
End (100%): original position
The animation code is:
animation: cloud 5s ease-in-out infinite;

@keyframes cloud {
	/*忽略0% 100% 因为span需要回到原位置*/
  50% {
    transform: translateY(-20px);
  }
}

The effect diagram is as follows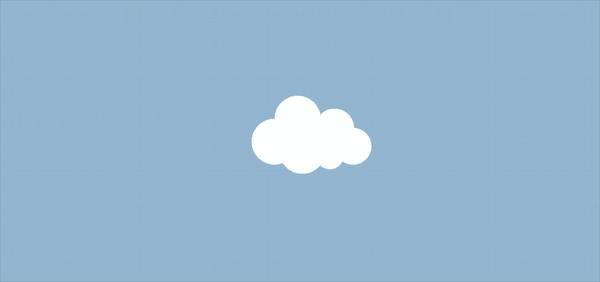 Step 7
Use span::after pseudo-element to act as the shadow of the white cloud, set to
Absolute positioning (left: 5px bottom: -60px)
Height 15px width 120px
Background color: black
Color transparency: 0.2
span:after {
  background: black;
  content: '';
  height: 15px;
  width: 120px;
  opacity: 0.2;
  position: absolute;
  left: 5px;
  bottom: -60px;
}

The effect diagram is as follows
Step 8
span::after fillet
span:after {
  border-radius: 50%;
}

The effect diagram is as follows

Step 9
Add animation to span::after
effect
When the white cloud moves upward, the shadow becomes smaller and the color becomes lighter;
Move down, the shadow becomes larger and the color becomes darker
span:after {
  animation: cloud_shadow 5s ease-in-out infinite;
}

@keyframes cloud_shadow {
  50% {
    transform: translateY(20px) scale(.7);
    opacity: .05;
  }
}

The final rendering is as follows
Note: It can be found from the renderings that, in fact, only the size and color depth of the shadows are changing, but their position has not changed. This is because at 50% of the span animation, span executes translateY(-20px). If span::after does not execute translateY(20px), then span::after will move 20px together. (The essence here is that the two effects are canceled out; so, the position of span::after has not changed)
If span::after is not set translateY (20px)
Then the following effect will appear: the shadow is also moving up and down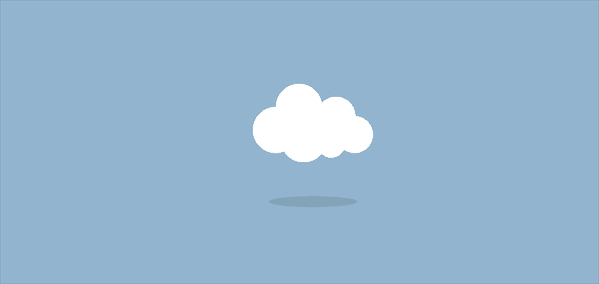 Conclusion
The article is only used as a study note to record a process from 0 to 1
I hope to help you, if there is any mistake, please correct me~
I'm Haihongଘ(੭ˊᵕˋ)੭ , if you think it's ok , please like it
Thank you for your support ❤️